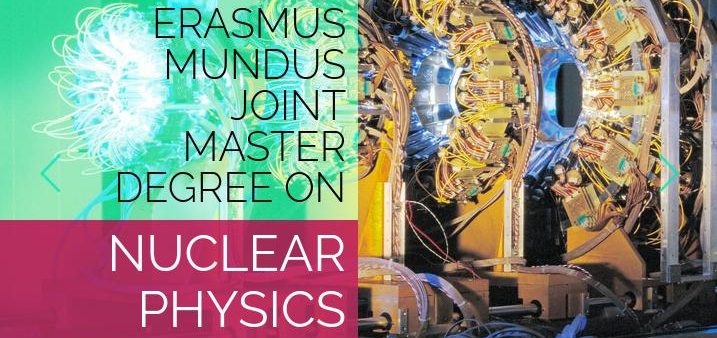 NucPhys is a 2-year Erasmus Mundus Master in Nuclear Physics (120 ECTS) and it is offered by a consortium of 7 partner universities in Spain, France and Italy, with the participation of more than 30 research institutions/companies as associated partners worldwide. Nuclear Physics is a broad matter of relevance from both the fundamental knowledge of Nature and the multiple applications to different fields of strategic economic relevance. Consequently, in this Master, fundamental theory and experiments, as well as applications, will be presented.
The call for application for the course 2020/2022 is now open! The deadline is the 13th March 2020.
The main objective of the Master programme is to provide top-ranked students with an excellent background in Nuclear Physics so as to educate experts and foster their future careers in this field. At the same time, NucPhys students carry out their master studies at the least 3 countries, in a stimulating and scientifically excellent international environment, including Research internships (12 ECTS) carried out in companies or research institutions.
As an Associated Partner organization, Barcelona Supercomputing Center (BSC) will assist NucPhys providing possible research topics and/or assisting in research and technical work. Moreover, BSC will assist in finding additional revenues/resources such as scholarships for students during their internship and/or Master Thesis periods. Finally, BSC will ensure that academic content meets the relevant professional needs.
NucPhys is aimed at all graduated in Physics, Chemistry, Engineering, Applied Mathematics or any other kind of scientist or engineer degree.
Candidates from countries where English is not one of the official languages must demonstrate their knowledge of English with a certified language level equivalent to B2 using the CEFR (Common European Framework of Reference for Languages).
For any question send a mail to nucphysinfo@us.es