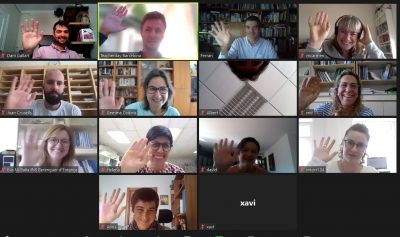 The 3rd edition of the Fusion Teacher Day took place on the 14th of October. This event is organized by Fusenet and its goal is to promote fusion science and technology among European secondary school students. Our group collaborated in this edition with the participation of Dani Gallart.
The event was organized in two sessions, i.e. a local session and a Europe-wide session. During the local session, representatives of the fusion community in each region give an introductory talk on nuclear fusion devoted to secondary school teachers while the European session is a parallel event among all European countries where the main contents of the available educational material provided by Fusenet and the status of ITER are explained. Therefore, teachers can profit from a very recommendable event that opens the doors to a concise and understandable introduction to fusion while also providing educational material for their students.
This year's local edition in Barcelona was hosted by Grisha Domakowski (b_tec), Ferran Albajar (F4E) and Dani Gallart (BSC). They gave an overview to fusion, and an introduction to the educational resources available in English and Catalan thanks to FuseNet and the FusionCAT project, respectively. It was a fun session with plenty of questions and suggestions from the participants. We hope that these types of activities help encourage and motivate younger generations into relevant research fields for our society and world. The world is really claiming for a new energetic paradigm.
If interested, the educational resources can be found here (in Catalan) and here (in English).
The FusionCAT project (001-P-001722) has been 50% co-financed with € 1.960.963,66 by the European Fund for Regional Development of the European Union within the framework of the 2014-2020 ERDF Operational Program of Catalonia, with the support of the Generalitat of Catalonia.