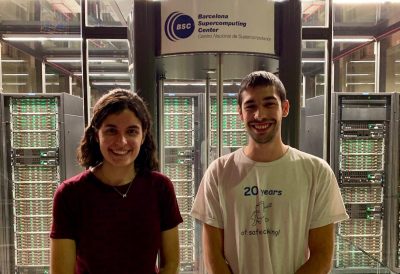 Marta Florido and Adam Teixido, both 4th year bachelor students at Universitat Politècnica de Catalunya's CFIS programme (Centre de Formació Interdisciplinària Superior), have joined us this summer with an internship program. Both internships are part of the BSC International Summer HPC Internship Programme aims to encourage students to start a research career in our multidisciplinary research center. The Severo Ochoa award funds this Programme.
Marta works to expand the features and capabilities of  the Ion-Cyclotron-Resonance-Frequency (ICRF) Heating code PION. These new features will be needed to simulate a series of recent experiments carried out at the ASDEX-Upgrade tokamak, located at Max-Plank's Institut für Plasmaphysik (IPP), which were proposed by our group leader Mervi Mantsinen.
Adam focuses his project on the future deuterium tritium (D-T) campaign at JET envisaged for 2020. In particular, he works on modelling of the minority D ICRF heating scenario that offered very good results in the first JET D-T campaign.