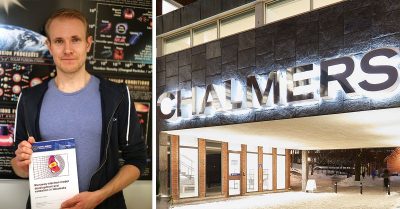 On January 14, our group leader Prof. Mervi Mantsinen had the honour of chairing the evaluation panel of Mathias Hoppe's thesis entitled "Runaway-electron model development and validation in tokamaks" at the Chalmers University of Technology, Gothenburg, Sweden.
Super fast electrons, so called "runaway electrons", can sometimes appear in fusion devices and can cause severe damage to the device wall. To develop technologies to prevent the generation of runaway electrons, advanced computer models accounting for all the relevant physics mechanisms playing a role in a fusion device are required, which constitutes the first part of Mathias Hoppe's thesis. To ensure that the models are correct they must also be tested on the fusion experiments of today, which can be done using synchrotron radiation and the techniques developed in the second part of Mathias Hoppe's thesis.
The thesis opponent was Dr. Philipp Lauber from the Max Planck Institute for Plasma Physics, Garching, Germany and the other evaluation panel members were Prof. Boris Breizman from the University of Texas at Austin, USA, and Dr. Yueqiang Liu from General Atomics, California, USA. The thesis defense took place in a hybrid mode, with the opponent and the panel members joining virtually the event taking place in-person at Chalmers.
The event started with an introduction by Dr. Lauber to the topic of the thesis and was followed by a presentation by the candidate on the main results of his work. This was followed by questions by the opponent, the evaluation panel members and the audience. The event was concluded with a meeting of the evaluation panel to discuss the grading of the thesis and its announcement to the candidate. The evaluation panel was impressed by the quality and the breath of the research and unanimously decided to grade the thesis the grade "Pass".

Our warmest congratulations to Mathias for his excellent work! We wish him all the best in the next steps in his career in research.