On Friday April 26, our group leader Mervi Mantsinen joined the fellow ICREA Research Professors and ICREA administrative staff at the ICREA annual meeting, the ICREA calçot-free Calçotada 2019. The event took place in the emblematic premises of the Moritz Brewery in the heart of Barcelona.
ICREA stands for the Catalan Institution for Research and Advanced Studies. It is a foundation supported by the Catalan Government and guided by a Board of Trustees. Each year ICREA launches a competitive Senior call to choose researchers through a robust, merit-based process that relies on the opinions of independent, high-profile experts who look for quality and excellence, creativity and talent.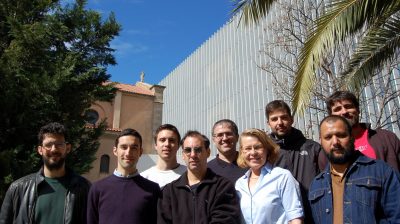 ICREA Research Professors are free to choose their host institutions within the Catalan research system where they act as research leaders and attractors of additional talent. Mervi was selected to join ICREA in 2013 with Barcelona Supercomputing Center (BSC) as her host. Since then she has successfully set up our Fusion group at BSC and obtained highly competitive grants and international contracts. At present the group has 9 members.
Following the tradition, the ICREA annual meeting started with the brief and concise speech of ICREA Director Antonio Huerta who is Professor of Applied Mathematics at Universitat Politècnica de Catalunya in Barcelona. In his speech, Antonio took the opportunity to highlight ICREA's remarkable successes in 2018.
In particular, we found out that the number of permanent ICREA Research Professorships has increased to 264 of which 127 are hosted by universities, 115 in CERCA centres, 14 in CSIC centres and 8 in other research institutions. Last year the ICREA Research Professors
funded on average 7.1 full-time highly-qualified jobs
attracted 97 M€ total research funds
produced 2020 high-profile publications of which 91% are in the first quartile
supervised 152 successfully completed PhD theses
10 ICREA Research Professors were included among the top 1% most cited researchers worldwide by Clarivate Analytics.
Furthermore, since 2001, the ICREA Research Professors have
licensed 58 technologies to more than 40 companies
created 25 spin-off companies.
Find out more from the recently published ICREA Memoir 2018 "The Need to Know" where these and many more successes are briefly presented and the secret to ICREA's success is explained.