The 44th European Physical Society Conference on Plasma Physics took place in Belfast, Northern Ireland, from the 26th to the 30th of June, 2017. It  is the largest annual conference in the field organized in Europe, with more than 600 delegates each year.
This year our group members Mervi Mantsinen, Shimpei Futatani and Nathan Oliveira de Lopes participated in the conference.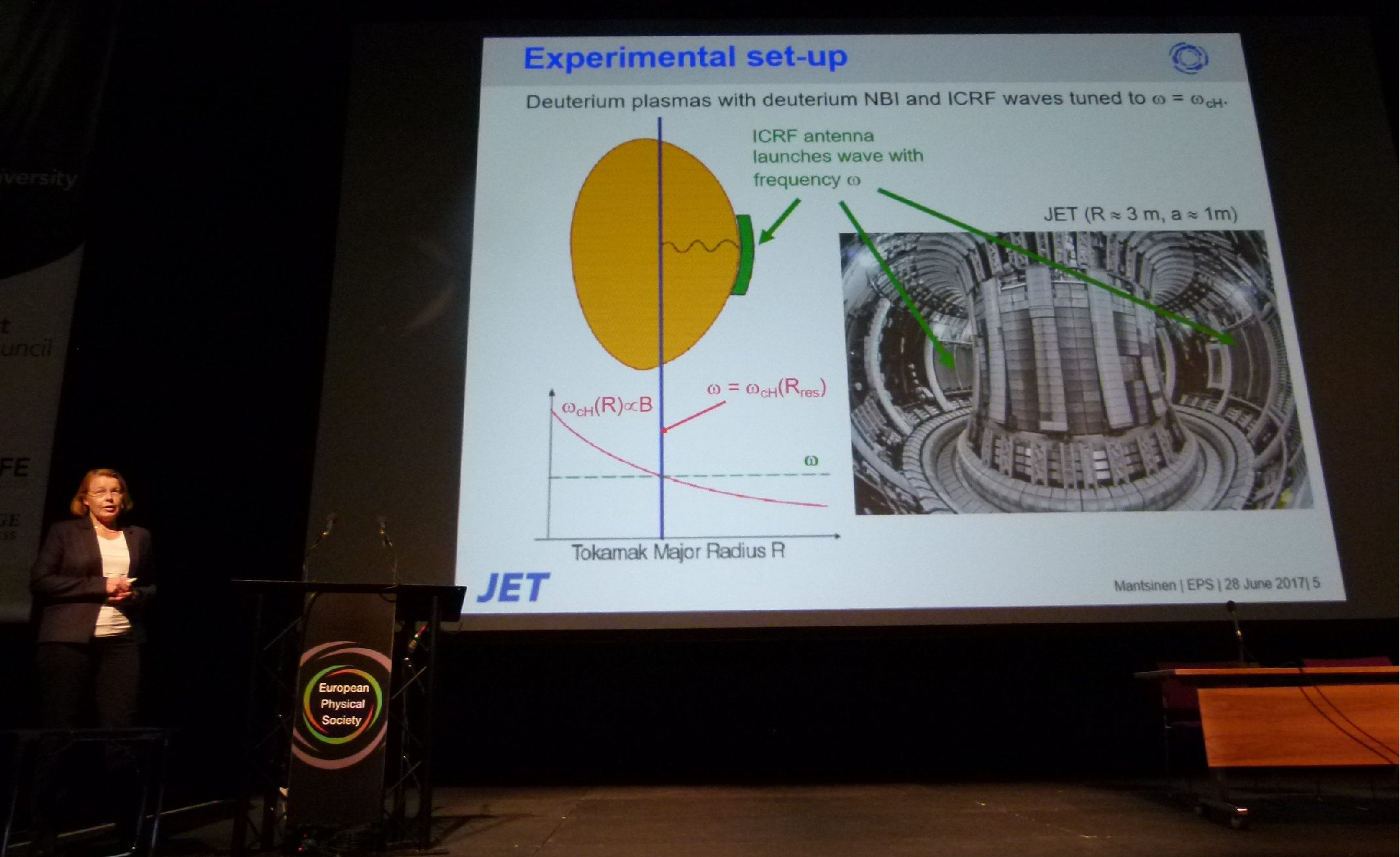 Mervi gave a talk entitled "Optimising the use of ICRF waves in JET hybrid plasmas for high fusion yield" and Shimpei and Nathan presented posters entitled "Non-linear MHD Simulations of Pellet Triggered ELM for ITER Plasma Scenarios" and "Nonlinear electromagnetic stabilization of ITG microturbulence by ICRF-driven fast ions in ASDEX Upgrade", respectively.
Our group members also co-authored further four contributions from JET and AUG, i.e.
Sergei Sharapov et al., "The effects of electron cyclotron resonance heating and current drive on toroidal Alfven eigenmodes in tokamak plasmas"
Joelle Mailloux et al, "Plasma preparation for alpha-particle excitation of TAEs in JET DT plasmas"
Clive Challis et al, "Impact of neon seeding on fusion performance in JET ILW hybrid plasmas"
Jon Hillesheim et al. "L-H transition studies in hydrogen and mixed ion species plasmas in JET".
The conference proceeding papers will appear in due time online here.
Next year, the conference will take place in Prague, Czech Republic. Mervi will be closely involved in its preparation as she will chair the magnetic confinement fusion sub-group of the Programme Committee.
We look forward to seeing you in Prague next year!